Relics by Maer Wilson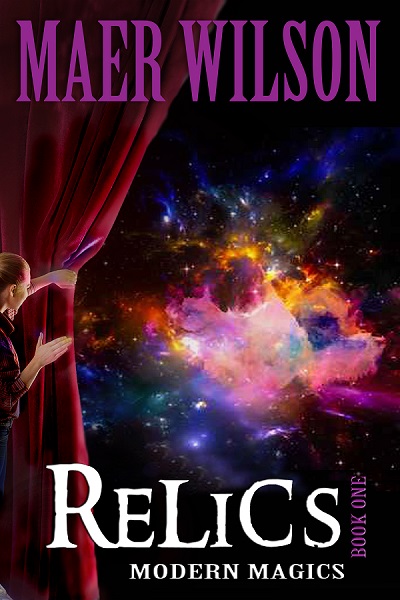 Relics
Most of Thulu and La Fi's clients are dead. Which is perfect since their detective agency caters to the supernatural. But a simple job finding a lost locket leads to a big case tracking relics for an ancient daemon.
The daemon needs the relics to keep a dangerous portal closed. His enemy, Gabriel, wants the relics to open the portal and give his people access to a new feeding ground – Earth.
Caught on live TV, other portals begin to open and the creatures of magic return to Earth. The people of Earth are not alone, but will soon wish they were.
When Gabriel threatens their family, Thulu and La Fi's search becomes personal. The couple will need powerful help in the race to find the relics before Gabriel does. But maybe that's what ghostly friends, magical allies and daemonic clients are for.
When the creatures of myth and magic return to Earth, they're nothing like your mother's fairy tales.
My Review:
Starting the story at a very suspenseful and potent moment is one of my favorite ways to be drawn into a book. It piques my interest and really adds to my want to complete the book to find out how that scene ends.
The world building and characters are in depth and well developed. Mixtures of different creatures, pixies, goblins, angels and demons. Thulu and La Fi are partners and private investigators with their current employer a demon who has hired them to find the Relics and help save the world from Angels.Both the characters and the world is incredibly imaginative and a true original piece of work.
The storytelling is layered, detailed but not to complex. A truly fantastical story that will whisk you away and highly enjoyable. I have to admit that I really felt connected to the characters and the circumstance they found themselves in. I found it exciting, humorous and sad.
Overall a great read I recommend it. 5 stars.
Relics can be found at these retailers:

Maer Wilson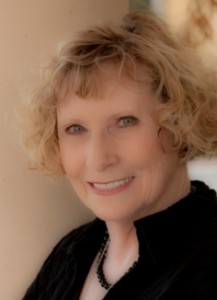 After a successful career being other people, and later teaching others the many tricks of that trade, Maer Wilson has decided to be herself for a while. Turns out she's a writer. She's always loved stories, especially fantasy, mystery and sci fi. Maer was born in the Year of the Dragon and has a dragon-themed room in her home, but sadly no dragons in the back yard. When she's not writing, Maer plays online video games, teaches college and reads. Maer is a partner in Ellysian Press, a small publishing house. She also co-hosts the literary podcast
MythBehaving
. Maer lives in the high desert of Southern Nevada with her three dogs, a chihuahua and two poodles.
Her books include
Relics
and
Portals,
Books 1 and 2 in the
Modern Magics
series. The upcoming third book in the series is
Magics
. There are also three novelettes in the series - "Ghost Memory," "Unwanted Ghost" and "Ghost Dancer." A fourth story, "Wedding Ghost" is also planned. You can find all books and novelettes in the
Modern Magics
series at
Amazon
.
You can find Maer at these links:
Giveaway
This Giveaway is open internationally
Must be 13+ to enter
PRIZES
2 Winners – ecopy of RELICS
1 Winner – $5 Amazon Gift Card
1 Winner – $10 Amazon Gift Card
2 Winners – ecopies of the Modern Magics Novelettes – "Ghost Memory," "Unwanted Ghost," and "Ghost Dancer"
This tour is brought to you by

Please check out the other hosts on the tour for more chances to enter the Giveaway!
11/10/2014
http://thesaucyreviewer.wordpress.com/
11/10/2014
http://2ndbooktotheright.blogspot.com/
11/10/2014
http://cubicleblindness.com
11/10/2014
http://sallyawolfreads.blogspot.com/
11/10/2014
http://victoriasimcox.blogspot.com/
11/10/2014
http://carolhollandmarch.com/
11/11/2014
http://danielledevor.wordpress.com
11/11/2014
http://piecesofwhimsy.blogspot.com.au/
11/12/2014
http://booksauthorsandpublishing411.com/
11/12/2014
http://www.kirstinpulioff.com
11/12/2014
http://pratr.wordpress.com/
11/12/2014
http://www.weigandchris.com
11/12/2014
http://constancephillips.com/
11/12/2014
http://sheiladeeth.blogspot.com
11/12/2014
http://councilofpeacocks.blogspot.ca/
11/13/2014
http://anightsdreamofbooks.blogspot.com/
11/13/2014
http://theshadowportal.blogspot.com/
11/13/2014
http://www.lindseyrloucks.com/my-blog
11/13/2014
http://jodyakessler.com/jody-a-kessler/
11/14/2014
http://dennaholm.wordpress.com
11/14/2014
http://cindyyoungturner.com/
11/14/2014
http://dealsharingaunt.blogspot.com/